#770 is sold out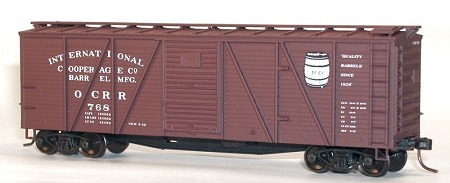 ask Dennis about fully assembled cars with metal wheels and Kaydee couplers
Cars can be purchased by contacting Dennis Ingalls dingalls@comcast.net
Price is $19.99 plus 5.00 Priority Mail shipping within the continental United States

Please specify the style(s) you want:

770 outside braced wood doors steel ends SOLD OUT
768 outside braced steel doors steel ends
History: At the turn of the century a cooperage (barrel) manufacturer moved into 768-770 Broadway in Raynham, MA and was known as the "Barrel Works". Their fine wooden barrels and kegs were made from lumber sawn at one of the many local saw mills. Iron hoops were manufactured at the metal company next door known simply as the "Rivet Works". Their barrels were shipped by the car load on the Old Colony Railroad which had a siding right at the back of the building.
To the south the OCRR went to Cape Cod, Fall River, New Bedford and of course the city of Taunton less than a mile away on the Whittenton Branch. Taunton, MA had many industries to include the Taunton Locomotive works. To the north less than 50 miles away was the big city Boston. Barrels were manufactured for many years. Then in 1928 the "Barrel Works" was bought out by the International Cooperage Company. They continued to manufacture barrels in the same location for many years. They were eventually acquired by an even bigger company which made the same quality barrels at the same location until the early 1970s. Since that time the building has been occupied by a Rambler car dealer, furniture store, curtain factory outlet, hardware store, and even a church. The Old Colony Railroad was taken over by the New Haven and was then simply known as the Old Colony Branch.
In 1995 the Old Colony Model Railroad Club was formed and soon moved into 770 Broadway. Our line has many features of the New Haven Railroad from New Haven, CT to Providence, RI during the steam to diesel transition era. We currently have several hundred feet of double track main line with a large single track branch line and operate with an NCE (North Coast Engineering) DCC system.
These cars were proudly made and custom painted by
Accurail
.